1-13-2021
---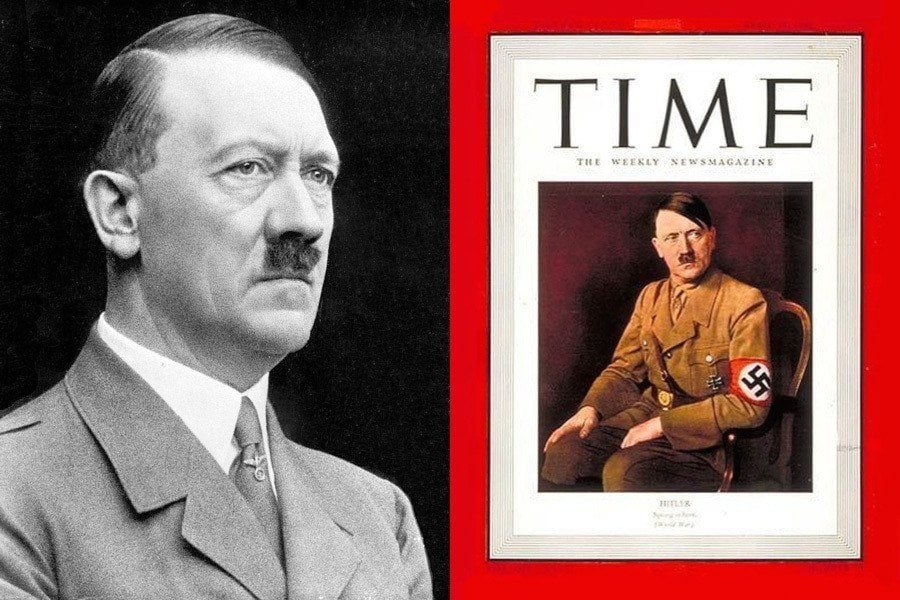 Adolph Hitler  a "nice" person on the cover of Time Magazine.
I am going to make this very short:
I truly am in shock…
I visited a gun store in Seymour today only to discover that  the people that run it are   dangerously dumbed down about the our God inspired Constitution, and  our  God given inalienable rights.
I tried to hand them a MFP card to get them up to date on current events, including a GUARANTEED  gun grab if O'Biden gets in.
I was informed that they were "non political".  Then  I learned that they FULLY support the  unconstitutional as hell criminal ATF who's level of  pure evil and criminality compares with that of the FBI!
Let me translate  what "non-political"  translates as:  It means that they don't give a flying fuk about helping us defend our God given rights in this time  of  an immanent  gun grab if the O'bin gets into office. Truly disgusting and un-American  behavior,  I truly wanted to vomit.
"An appeaser is one who feeds a crocodile, hoping it will eat him last." ~Winston Churchill
They  sure as hell  want your money though… I don't think that they deserve mine. You make your choice. As of today I would not do business with them if hell froze over.   You don't do business with the enemies  of liberty and I strongly suggest that you vote with your feet and avoid these  "nice' but aiding and supporting evil, people.
FWIW I don't have Stockholm syndrome.  I do not aid  or like people that are literally raping me of my rights. These people seem to have a serious case of Stockholm syndrome.
In my 64 years I have never met a gun store person that said that the ATF were nice people. That is like saying that Jeffery Epstein was a "nice person".  Well I am sure that Mr Epstein was a "nice person" as that is how psychopaths and Satan always presents themselves. Mr Adolph Hitler was renowned as a "nice person" by all of the diplomats  that met him. Time Magazine named him man of the year, 2 times as I recall.
The owners are  likely soon going to learn that you can ignore reality ,but reality will never ignore you.   Some people are  just  a special  kind of stupid.  And we all know that you can't fix stupid.
In closing the ATF is not the legislature, the only branch that the Constitution says can write law.  The second amendment also clearly says "shall not be infringed".  The ATF is blasphemously acting as God and determining what our God given rights are,  rather than  actually  protecting  our God given rights.
~MFP
update:  11:27 AM
Is it coincidence that  the sheriff's  department  was in front of me coming home,  and just  now  what appeared to be  an unmarked  Federal "law enforcement truck"  just drove by.  FYI  the  sheriff is the highest law enforcement in the country and  is supposed to protect us from federal agencies that break the Constitution.  Let's hope that our county  Sheriff does  his job in the   coming days to protect us from even  more egregious  unconstitutional gun law enforcers sent by O'Biden.  Will our sheriff protect us from the coming forced "vaccines"  that are by all appearances the mark of the beast?
I don't  think am being paranoid,  as I have observed government bully and terrorize Americans my entire life.  Our Sheriff needs to step up and address all  of this criminality coming out of Satanic Washington DC, and that often includes the ATF.  Who In my opinion are an arm of the Satanic New World Order. They most definitely do not protect our rights.
---
Related Stories:
As it prepares to discontinue gun sales at 500 of its stores, Walmart is reportedly turning over firearms sales records to the Bureau of Alcohol, Tobacco, and Firearms (ATF), Ammo Land News reports – gunpowdermagazine.com
Horowitz: Missouri county authorizes arrest of feds who violate Second Amendment – theblaze.com
MISSOURI SAYING NO TO FEDERAL 2A LIMITATIONS- DOOMED TO FAIL – Dave Hodges (4 minutes)
---
The number of federal gun control measures that are authorized under the Constitution – is zero. But relying on the feds to limit their own power is a bad strategy. That's why it's up to the states to get the job done. On this episode, get an update from 9 states – where there are efforts to protect the 2nd Amendment from federal infringements.
Status Report: Nullify Federal Gun Control  –  blog.tenthamendmentcenter.com (35 minutes)
---
Missouri Gun Shop Announces They 'Don't Have Guns or Ammo for Biden Supporters' – Gateway Pundit
O'Biden gun grab begins…. – MFP
VERY GOOD!
Mark Passio – The True Meaning And Purpose Of The 2nd Amendment – MFP

THE ATF HAS NO CONSTITUTIONAL AUTHORITY TO BAN ANY AMMUNITION – gunsinthenews.com
Breaking: ATF Bans Legal Handgun, Turning Innocent Gun Owners Into Felons Overnight –  conservative-daily.com
ATF IS NOW LITERALLY CHANGING GUN DEFINITIONS – TURNING LEGAL GUN OWNERS INTO FELONS OVERNIGHT –  gunsinthenews.com