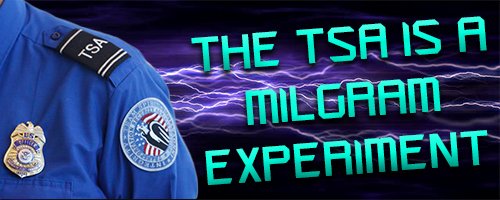 by James Corbett
corbettreport.com
May 26, 2018
Everybody's least favorite homeland security goon squad, the Transportation Security Agency (TSA), is back in the news again this week, and for precisely the same reason as it always is: Engaging in the degradation, humiliation, dehumanization and molestation of innocent people which is its real raison d'être.
This time the victim was Jeanne Clarkson, a 96-year-old WWII veteran who the jackbooted thugs of the police state decided would be a fitting target for their "deluxe" treatment, i.e., a full six minutes of groping, patting and molestation. The only reason this even made it as a blip on the news radar (and even then, only in the tabloids and the alt media) was that her daughter had the sense to record the entire ordeal and post it to facebook, where the post went viral.
Sadly, there is nothing new here. Nothing shocking. Nothing unexpected to those who have seen this taking place for nearly two decades now. Whatever one makes of how long (or short) a journey it was from the pre-9/11 airport security experience (the waltz through the metal detector) to the police state gauntlet of today (removing shoes and belts, bomb swabs, radiation scanners, and the dreaded molestation pat-downs), the only surprising part of this story is that people are surprised by it.
As Matt Agorist notes in his write-up on the Clarkson incident and its context:
The TSA – whose job is supposedly "fighting terrorism" – is, without doubt, one of America's most corrupt and incompetent agencies. However, last year, they apparently became so unsatisfied with the mere ability to strip search babies, remove colostomy bags, beat up blind cancer patients, and fondle your genitalia, that they announced a more invasive physical pat-downs. The pat-downs, which TSA warned would probably prompt assault complaints with the police department because of their invasive nature, have been implemented and a 96-year-old WWII veteran has become their latest victim.
To those who are truly surprised at the latest TSA outrage, I could point out yet again that the TSA is pure security theater, nothing more.
Their security screenings have a staggering 95% failure rate.
They have repeatedly failed to find bombs, massive shipments of narcotics, loaded guns, and even the very types of box cuttersused on 9/11.
And, in the ultimate case of "pot meet kettle," even the US Congress itself has excoriated the TSA as an "enormous, inflexible and distracted bureaucracy, more concerned with human resource management and consolidating power, and acting reactively instead of proactively."….. Read More
and here