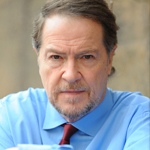 Let us not mince words.
We are living in an age of war profiteers.
We are living in an age of scoundrels, liars, brutes and thugs. Many of them work for the U.S. government.
We are living in an age of monsters.
Ask Donald Trump. He knows all about monsters.
Any government that leaves "mothers and fathers, infants and children, thrashing in pain and gasping for air" is evil and despicable, said President Trump, justifying his blatantly unconstitutional decision (in the absence of congressional approval or a declaration of war) to launch airstrikes against Syria based on dubious allegations that it had carried out chemical weapons attacks on its own people. "They are crimes of a monster."
If the Syrian government is a monster for killing innocent civilians, including women and children, the U.S. government must be a monster, too.
In Afghanistan, ten civilians were killed—including three children, one an infant in his mother's arms—when U.S. warplanes targeted a truck in broad daylight on an open road with women and children riding in the exposed truck bed. They had been fleeing airstrikes on their village.
In Syria, at least 80 civilians, including 30 children, were killed when U.S.-led air strikes bombed a school and a packed marketplace…..  Read More